Swimming pool care tips from Express Pool Care service professionals
People who live in Arizona understand that when the sun is high in the sky and the temperatures are in the triple digit range, that means the swimming pool is "open for business!" If you and your family spend a lot of time in your swimming pool, the swimming pool service contractors from Express Pool Care offer swimming pool care tips to help assure your pool is always ready when you are.
Chances are you know that swimming pools require almost continual attention and special care to keep them in top working condition and keep the water free of bacteria. Your pool contractor will inspect and check pool equipment, including the grids, motor and pool cartridge filter and let you know if they are working properly and what type of maintenance needs to be performed, if any.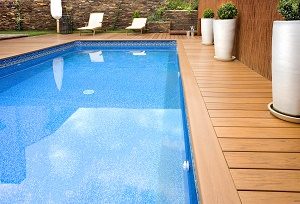 Swimming pool care tips
Here are common mistakes pool owners make if they're not diligent in the care and maintenance of the pool. These mistakes are also part of the reason that many pool owners opt to work with pool service professionals from Phoenix, Arizona.
Pets in the pool can upset the delicate chemical balance. There is no reason your dogs can't join you — if they enjoy it — you just need to let yoru pool contractor know they'll be swimming will you as he will need to make adjustments to the pool chemistry. Cleaning the skimmer basket is something you will need to do between service visits to remove any dog hair or debris.
Do you treat your pool like you're at a water park? If you have a pool of course you want to be in it all the time, right? You need to remember, the more people who use the pool, the more chemicals and chlorine you need to use keep everything balanced. Let us know if you're having a pool party, how often you use the pool and how many people use it. If your pool contractor understands how frequently the pool is used and what the swimmer load he he will make certain chemicals are properly in line. Schedule a pool cleaning the day after a party.
Running the pump infrequently. You may think you're saving money by turning off the pool pump, but you're not. Sure you may save some pennies on your utility bills, but it could cost you dollars for the additional chlorine and pool servicing you might need to have. A pool is made to keep itself clean – if the chemicals are added properly and circulated long enough. The pool pump will keep the pool free of algae and bacteria and will properly circulate the chemicals meant to keep the entire pool clean. The pump should be run at least eight hours a day in the summer — ask us for the amount of time for your unique pool.
Preventative and regular pool maintenance assures the family pool operates at peak condition. Proper service and maintenance helps assure you have a pool that will last you a lifetime.