CPO® certification is designed to provide individuals with the basic knowledge, techniques, and skills of pool and spa operations. The Certified Pool/Spa Operator® certification program has delivered more training than any other program in the pool and spa industry since 1972, resulting in more than 240,000 successful CPO®certifications in 44 countries. The CPO® certification program is widely accepted by health departments.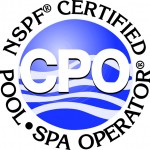 Classroom CPO® Certification
The CPO® certification program can be taken as a two-day class that covers 14-16 hours of information from the NSPF® Pool & Spa Operator™ Handbook (provided) and local codes taught by an NSPF® Instructor. This dynamic setting offers direct interaction with an instructor and fellow students. Pass the open book exam and earn CPO®certification.
General Information About the CPO®
The CPO® certification program requires participation in either a two-day class (14-16 hours) taught by a certified instructor or the blended format that combines the online Pool Operator Primer™ and one day of the Pool Operator Fusion™ class of instruction
The CPO® certification program
includes pool and spa chemistry, testing, treatment, filtration, maintenance, automatic feeding equipment, government requirements
The CPO® certification program requires an open book written examination
The CPO® certification is valid five years
What Are the Benefits of the CPO®
Certification Program?
Proven educational tool
Widely accepted by local and state authorities
Covers topics necessary for pool operators including a section for local and state codes
Comprehensive handbook
All courses are taught by NSPF® certified instructors
The CPO® certification is recognized nationally and internationally