What is swimming pool coping? Express Pool Care service professionals explain 
What is swimming pool coping is a question the swimming pool service experts from Express Pool Care get asked quite regularly. If you don't know what swimming pool coping is, it is the edging that surrounds the edges of the swimming pool. It performs both an aesthetic purpose as well as a functional purpose.
If you had your swimming pool built and didn't have coping installed your pool will look unfinished. Swimming pool coping adds polish and style and an additional layer of safety providing a smooth edge and adding a non-slip feature. Coping is the cap between the pool walls and the deck.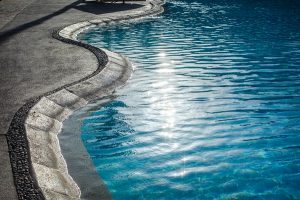 Coping can either contrast with your pool or deck design or it can complement it in a seamless melding of the two. As with pool liners, coping tiles come in myriad colors, materials and styles. Choose a natural look – formed to resemble stones or pebbles. Choose a colored, poured and stamped (with designs) concrete coping. It is a matter of personal preference.
Porcelain tiles are also another option that provides myriad patterns and color choices. Keep in mind that brick is the most durable coping material and can also be colored from light gray to beige to dark red and black-browns – remember though, the darker the color the hotter it will be to the feel under the summer sun. Stone coping is becoming a more popular choice because of its durability and the fact that it remains cool to the touch. With the variety of textures and colors, stone is a great match for many pools and spas.
In addition to style and design you will want to talk to your swimming pool contractor about the use of cantilever or bullnose coping.
Cantilever coping is usually used with brick, concrete and stone and will extend of the lip of the swimming pool
Bullnose is used with concrete decking and will abut the pool lip.
What is swimming pool coping?
When shopping for coping – whether for a new construction project or a remodel or renovation – browse your pool builder's selection of materials before you make any final decisions. You will want to consider how it will look with your landscaping, your home and with the "feel" of your outdoor living space in general.
Give us a call and see if you're ready to upgrade your pool with the installation of new coping before the 2017 swim season rolls around.