Express Poolcare service professionals explain smart pool technology
If you carry a cell phone, you likely understand the term "smart phone." Did you know you can have a "smart pool"? It's true. Many homeowners have smart homes meaning they have programmable thermostats, remote controlled television and sound systems. You may even have a smart washing machine, dryer or dish washer. Now you can have that smart technology extend from the home to the backyard and your swimming pool if you talk with the swimming pool service contractors from Express Poolcare in Arizona.
What is a smart pool?
A pool that incorporates technologies that make cleaning and overall pool ownership easier than ever. There are smart devices to monitor pool chemicals, water temperature and the efficiency of the pool's pump and filter.
Here are technologies you may want to consider: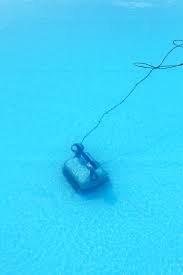 A robotic cleaner doesn't truly elevate your pool to the smart level, but it makes it much easier for you to keep clean between swimming pool contractor visits. Robot pool cleaners are similar to in-home robotic cleaners that move along on their own, picking up debris in your house. A robotic cleaner can be operated remotely – turn it on, let it do its job, then turn it off – all from your phone!
A pool contractor can install smart switches so you can turn on the lights and control the lighting from a smart phone app or you can program them to turn on and off automatically. With smart switches you could also remotely control your swimming pool's cover and the heater.
Smart technology swimming pool monitors let you monitor the water temperature, turn the heater up or down, monitor the chemical make up and the amount of chemicals needed to bring everything back into balance. You can connect this technology to your home Wi-Fi network or your smart phone with a Bluetooth – this allows you to control and monitor your pool for any location.
You can have a remote controlled pool cover installed. This will help make it easier to use the cover and you can control it from inside the house or on your phone.
Work with your pool contractor to have smart technologies installed make taking care of and owning a pool even easier. Make certain that everything is working together to keep your pool clean and bacteria-free.