Express Pool Care service professionals provide autumn pool maintenance tips for Arizona pool owners 
Okay, okay we know, there are still triple digit days, but the fact is, there will come a time, soon, when you will want to close your pool for the winter. Right now, though there are steps you and your swimming pool service contractor from Express Pool Care can take to make the transition from summer to autumn to winter easier. With winter — such as it is in Arizona — right around the corner, it might make sense to get on the schedule of your pool service contractor for the winter closing process.
Here are a few things you could put on your weekend to-do list for autumn pool maintenance: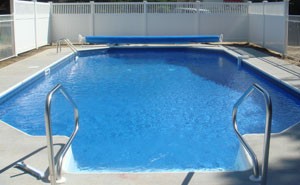 Pack up inflatables. Wash them and let them dry thoroughly, deflate them and store them.
Pay special attention to skimming leaves and floating debris from the pool surface. Better yet, use a swimming pool cover to keep the leaves out of the water.
Make certain the pool furniture and cushions have been cleaned and dried if you're going to store it for the winter.
Whether you choose an actual date for your winter pool closing or if you are going to wait until the weather is simply not conducive to swimming before you close the pool, it still might make sense to get on the schedule for a pool winterization before all of the prime slots are filled. Once we come out, here is what we will do to prepare your pool for winter:
Ensure the swimming pool cover is free of damage. It needs to be in good enough shape to protect your pool during the winter.
Clean and check your filter and skimmer baskets.
Water levels will be lowered.
The pool will be thoroughly cleaned.
The filter will be cleaned.
We will also remove and/or cover any equipment for the winter months
The pool will be chemically treated and the cover will be put in place.
Even though your pool will be closed for the winter, it's important that you give it a once over on occasion to make sure the cover is still in place and that there is no standing water.