Homeowners in Arizona are especially grateful for having access to a backyard swimming pool to call their own when the temperatures hit the double digits in the summer. Having a swimming pool can also transform your backyard from ho-hum to an area of peace, tranquility and relaxation as well as an exercise hot spot. Following a long day at the office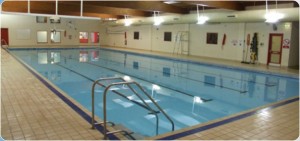 followed by a hot commute, there is nothing better than jumping into your swimming pool, but it's likely you won't want to be bothered with having to clean and maintain it when all you truly want to do is swim!
Keeping up with swimming pool maintenance is a job for an Avondale, Arizona swimming pool service contractor for many pool owners because if you want to enjoy the swimming pool for its exercise and relaxation benefits and for hosting pool parties for friends, you do need to keep up maintenance. Hiring a swimming pool contractor is a way to enjoy your pool without having to worry whether the chemicals are balanced correctly, whether the equipment is still operational or whether there are underlying issues that you just don't see (because you're not a trained, experienced swimming pool contractor like those from Express Pool Care. Ignoring pool maintenance could lead to algae growth and that can be costly to address — daily maintenance is ideal.
Pool chemistry being in balance is essential and it will need to be checked at least twice a week during the summer months, especially if your pool sees a lot of traffic! In the winter, the checks can be performed once a week. The chlorine in the water kills germs and micro organisms which could lead to disease. Having too much chlorine, though leads to red eyes and dry, itchy skin.
In addition to checking chemicals, you need to have your pool filter checked and cleaned on a regular basis. Not paying enough attention to the salt cell (this is what generates chlorine in a salt pool) is a mistake that many pool owners who don't have proper pool maintenance knowledge make. If the cell is not cleaned every three months, it may not produce the correct amounts of chlorine.
Also involved in swimming pool maintenance is proper sanitation activities. If you don't clean the pool walls, tiles and filters, it could be taken over by algae.

Having a pool maintenance technician on retainer to come and clean your swimming pool on at least a once a week takes the burden off of the homeowner and allows you to simply enjoy the beauty and relaxation of the pool. 

The technician will check your pumps, filters, water and chemical levels as well as checking for pool leaks. The pool technician will add chemicals to the pool on a regular basis to keep it in balance.
It is certainly feasible that you can take care of your pool maintenance but for many people, the idea of pool ownership is more about the swimming and they want to leave the pool care to the professionals.