Express Pool Care contractors, serving Laveen & Avondale, AZ answer the question, "should your dog swim with you?"
Pool contractors from Express Pool Care are asked many, many times throughout the season whether it's safe, or wise for the family dog to join the rest of the family in the water. Their answer to those who ask is, "It depends… on both your family and your individual dog." There is no one size fits all answer because your family is unique and your dog is as well. Bear in mind that your dog might not like the water — not all dogs do and not all dogs can swim.
If you want to consider adding your dog into the family swimming pool fun, here are some things to consider:
Does he like the water? Not all dogs do.
Is there someone around to help your dog in case he runs into any trouble?
If your dog has long hair you run the risk of hair clogging up the filters and drains. You may also need to have your pool cleaned more frequently.
Is your pool equipped with a ramp that allows him to get in and out of the water on his own? While he may be able to just jump into the water, he may not be able to climb the side to get out. Also, depending on the building material of your pool, a dogs' nails could damage it.
Does anyone in your family know how to perform CPR on a pet?
You need to pay attention to your pet in the water just as diligently as you pay attention to your dog in the pool.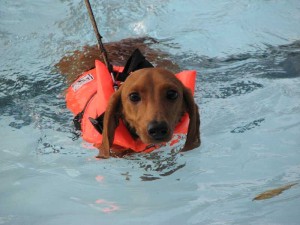 Never let your pet in the pool alone. He should also not be allowed inside the fenced in pool area without humans in attendance — a fenced pool area is not a dog run.
Not all dogs can swim or even want to swim and if your dog gets tired, he could drown. If your dog is frantically splashing, he is not swimming and you need to get him out of the water. Heavy dogs with short legs (Corgis for example,) or dogs with skinny legs (Greyhounds) could find swimming more of a challenge than a joy.
You should introduce your dog to the water slowly and make certain he enjoys it, and that you're not just forcing him to join you. Installing a ramp is a crucial piece of equipment that everyone who wants their dog to swim with them must invest in. Your dog may not be able to climb out on the side nor will he be able to climb the ladder.
A solar cover is NOT a safety cover. If your dog is accustomed to simply jumping in the water, if he jumps in and lands on the cover it could be hard for him to get out. This is another reason for not leaving your dog unattended.
Invest in a dog safety jacket if you truly want to make sure he is safe in and around the pool Don't forget to let your pool contractor know that your dog will be joining you in the water as he may need to change up the pool cleaning routine.