Avondale, Goodyear, Laveen & Phoeniz, AZ swimming pool service provides offer hot tub advice
In many areas of the country, a hot tub is an ideal water accessory, especially when the temperatures dip and the snow flies. In Arizona, a hot tub or spa can be used year round — just as it can in other areas of the country, but you can use the hot tub or spa without having to dash through the snow to get there! If you're looking for ways to extend the time you spend in the water structures in your backyard, talk with your swimming pool service professional from Express Poolcare about getting a hot tub or a spa this year. If you're wondering whether you should make the investment, talk with us about the many benefits of owning a hot tub or spa and what you need to do to make it a reality.  Whether you choose to install a hot tub for its therapeutic attributes or for fun and relaxation here are a few things to consider.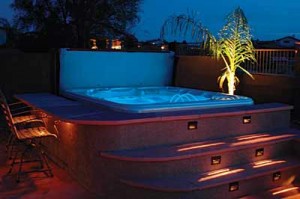 A hot tub or spa can add beauty to your backyard. From traditional wooden barrel-shape design to high end fiberglass models to those that can be built right into the end of your existing swimming pool a spa offers myriad advantages. It doesn't matter which style you choose, but it does matter that you will want to work with a swimming pool service contractor who understands proper hot tub maintenance procedures.
Is there a secluded area of your yard where it would fit? Do you have a deck on which to install it? Regardless of where the hot tub is situated, you have to take into consideration the plumbing and electric set up for it.
What is the budget for your project? Before you go spa shopping plan your budget. It is easy to be swayed to a larger and perhaps not affordable spa package if you don't have a budget in mind.
How many people will use the spa on a regular basis as this will help you determine the size you will need.
Will you use your hot tub/spa as an entertainment hot spot? If so, you might want to consider a television or stereo set up as part of the package. Look into heated towel racks, a refrigerator and entertainment system.
The hot tub jets can be adjusted to offer deep muscle hydrotherapy or soft tissue massage and that, coupled with the hot water, can offer health benefits beyond simple relaxation.
Wear a bathing suit when you're spa shopping as you will want to sit in a few to get a feeling for the jets, seating styles and overall feel when you're in it.