Express Pool Care, serving Phoenix, Laveen, & Goodyear, Arizona explain variable speed pool pump benefits 
The construction of a swimming pool is a long process and one in which you are asked to many many, many decisions. One decision that you need to consider above all others would be to talk with your pool contractor about the benefits of a variable speed pool pump. In many cases variable speed swimming pool pumps are more the normal than the exception to the rule. The reason for that is that they are energy efficient and while they may have a higher up front price tag, they will pay for themselves in time.  Swimming pool pumps power your vacuum, circulate the water throughout the pool and keep your water features in motion.
The swimming pool service contractors from Express Pool Care explain in further depth about variable speed pool pumps: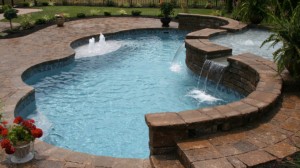 In some cases you may receive a rebate on the purchase because of its energy efficiency. In fact a variable speed pool pump may use up to 75 percent less energy than a single speed pump. This will save you money on your utility bills.
Variable speed pumps work harder and faster when the task requires it and slower and more easily when it doesn't. For example vacuuming the pool would require higher energy from the pump while simple circulation of the water will allow it to run at a lower speed.
A variable speed will save you money – there is no denying that. The longer you use your pool during a season, the more savings you will reap.
Variable speed pumps have a longer life than other pumps and require fewer repairs.
Before you make any investment in any kind of pool equipment, do your homework and understand not only the up front costs, but the ongoing costs as well, this is especially true of a swimming pool pump; in other words don't let the larger up front cost put you off because of the long-term savings you will reap.