Plan Your Memorial Day Party, Express Pool Care pool service pros offer tips 
Swimming pool contractors in Phoenix, Arizona know that their customers have been enjoying time in the swimming pool for many weeks now, especially since the temperatures have been hovering in the triple digits for a couple of days. If you are looking for a way to truly kick off summer, the swimming pool service contractors from Express Pool Care say that Memorial Day pool parties are one of the best ways to do just that!
They offer some party planning tips for your Memorial Day party: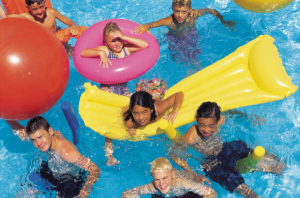 You could host a Memorial Day themed party, or you could plan a them party such as a luau or fiesta pool party or even a sports themed event. Once you have a theme, choose and mail invitations.
Send invitations through the mail or send email invites. Get fancy with invitations and give guests a hint of the party theme by the type of invitations you send. If you're having a fiesta pool party, consider using a small straw hat to hold a handwritten invitation printed on paper that is printed in brightly colored hues. A luau, send a grass skirt with the invitation attached. If you're going with a patriotic theme, print your invitation on flag-themed paper. If it's a "plain" pool party, write the invitation on the bottom of a flip-flop and tell your guests they can pick up the shoes' mate the night of the party! This is a great idea for guests who don't want to walk around barefoot.
If friends and family want to bring a dish to pass, let them! Tell them the pool party theme and see if they want to bring a dish that falls within the theme. Opt for the favorites of hots, hamburgers or other grilled foods. Keep in mind that if you've chosen a theme you may be planning a different menu. Don't forget finger foods and items for your guests to munch on while the dinner is cooking or just for grazing.
Will you serve alcoholic beverages? Be certain no guest, who has been imbibing drives home; make sure guests know they can spend the night and have space available. Provide both alcoholic and non-alcoholic beverages. Fill pitchers with water and add cucumber slices, lemon or lime wedges or strawberries to add a fresh flavor to it.
Decorate for the party.
If you don't have enough chairs let guests know it's a BYOC – bring your own chair – party!
Decide where you will set up the food and drinks and don't forget to bring trash cans to the area so guests can toss their used plates and utensils. If you're not using throw-away plates and utensils, consider getting some tubs, fill them with hot soapy water and ask guests to drop their items into the tubs when they're done eating, it will make your clean up easier.
Have in-pool and out of pool games for guests. Consider croquet, bocce, volleyball nets and whatever kind of in-pool games you think everyone will enjoy. Ask us for tips on pool games.
Here are some ideas for your party menu.  
If you're serving hots and hamburgers, offer your guests a variety of toppings such as: traditional mustard, spicy mustard, ketchup, relish, chopped tomatoes, pickles, hot peppers, grilled green and red peppers and grilled onions, baked beans and a variety of cheeses and breads.
For dessert set out bowls of cut up fruit along with some whipped cream, crushed up cookies or even Lady Finger cookies. Grill pineapple, peaches and mangoes and offer them with a scoop of vanilla ice cream. Bake some brownies or cookies.
Classic potato salad recipe from Food Network: Ingredients:
8 medium potatoes, cooked and diced
1 1⁄2cups mayo or salad dressing
2 tablespoons cider vinegar
2 tablespoons  of sugar
1 tablespoon yellow mustard
1 teaspoon salt
1 teaspoon garlic powder
1⁄2 teaspoon pepper
2 ribs of celery, sliced
1 cup of minced onion
5  cut up hard boiled eggs
Directions 
Boil peeled potatoes in salted water until done. Cool to room temperature.
Place diced potatoes in large bowl.
Mix mayonnaise, cider vinegar, sugar, mustard, salt, garlic powder, and pepper in another bowl.
Add to potatoes.
Add celery and onions and mix well.
Stir in eggs.
Sprinkle a little paprika on top.
Remember to keep food refrigerated and out of direct sunlight.