Express Pool Care, serving the Goodyear, Avondale, Laveen & Phoenix, AZ area explain how to open your swimming pool
People who live in Arizona have been watching the mercury rise on their thermometers and know that swimming time is likely just around the corner! In fact, for many of our pool clients they don't close their pools for the "winter" they use them year round. If you're wondering how to open your swimming pool, if you closed it for the winter, the swimming pool service professionals from Express Pool Care are starting to get pool owners on the schedule. If you want to open your pool soon, now is the time to give us a call.
How to open your swimming pool
What happens during a swimming pool season opening? Here are a few items that a pool contractor does: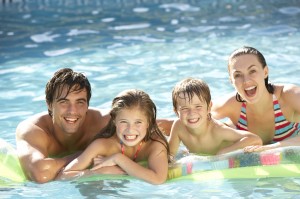 Removes the winter cover. Standing water will be pumped off prior to removal
Cover is cleaned and you will need to have somewhere to store it for the season — unless it is the cover you use year-round.
Water levels will be brought up to the proper depth (water was drained for the winter)
Winterizing items and components will be removed
Pool filter system and the pump will be primed
The pool will be inspected for leaks and he will inspect the pool structure
All equipment will be inspected and reinstalled
The pool walls and floor will be brushed and the pool vacuumed
Chemicals levels will be tested. Chemicals will be added to bring the chemicals up to the proper levels
Once the pool is open and chemicals added you will need to run the pump for up to twelve hours to circulate the chemicals
The water will be tested again
Then it's "everybody into the pool!" If you're a new swimming pool owner and have questions about the benefits of working with a swimming pool service contractor, give us a call and we will schedule a site visit and answer your questions.