How to host an off season pool party, Express Pool Care service pros share
When you live in Arizona is it ever too late to host a swimming pool party? What about hosting one in the Arizona "winter"? Have you ever wondered how to host an off season pool party? The pool service professionals from Express Pool Care offer tips to enjoy your pool long after the traditional pool closing time — usually around Labor Day in most areas of the country.
If you have heated water, a heated towel rack and fire pits you could invite friends and family to your home for a winter pool party. Pool owners in the snowy parts of the country don't have to completely discount an off season pool party, but they may need to make more arrangements for heat for their guests. Also, they will have to decide if it's worth it to not have had the pool closed for the season yet.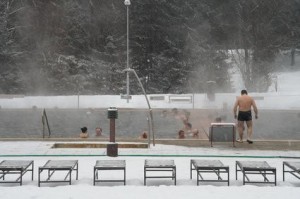 How to host an off season pool party
Set up your heated areas and then surround them with lawn chairs. Add to the festive feeling by adding some beach balls and maybe even an inflatable palm tree or two!
Ask your guests to bring a beach bag and bring their swim suits, flip flops and whatever else makes them feel as though they are at a pool party. Ask them to bring their imaginations and believe they are in a mid-summer pool party, not an off season one! If you want to get into the spirit of the season, add snowmen and snowflake decorations. Decorate with holiday ornaments and even bake up a batch of Christmas cookies and bring on the candy canes for treats or for dunking in a mug of hot chocolate. String snowflakes on any cacti you have in the yard. String festive holiday lights and get into the mood!
If you have guests who just don't want to swim, even if the water is warm, plan out of pool activities to keep everyone entertained. Show movies, pop some corn on the barbecue or fire pit and cook some summer foods like hots and hamburgers.
"Polar Bear Swims" are popular in some areas of the country and brave souls don suits and jump into the freezing waters of the Great Lakes! You don't have to be that brave if you have heated water and are throwing an off season pool party in Arizona!
Pool owners who have closed their pools for the season can still have a poolside off-season "pool" party! Hosting a pool party in the middle of winter will make your party unique and it will be the talk of the season!