Express Poolcare Service contractors in Phoenix, AZ explain how to heat pool water
If you live in Arizona you may not think about the need to heat your swimming pool water. However, the swimming pool service contractors from Express Poolcare know that when summer is winding down, having heated water allows you and the family to enjoy the pool for another few weeks or even a month. When you talk with us we can tell you there is more than one option for heating your swimming pool water and in some cases, it's a personal choice as to which style you have installed.
Here are some of the choices: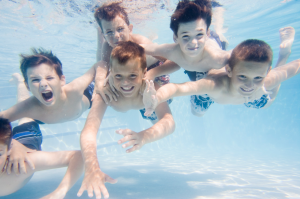 Electric
Heat exchanger
Oil fired
Propane or gas burning heaters
Solar
As the names suggest, the method by which the pool water is heated correlates to the fuel source chosen, from sun to electricity.  Solar and heat exchanger technology are the most environmentally friendly, but they may not be ideal for your pool or needs for any number of reasons which your pool contractor can explain to you.
You may make a decision on how to heat the pool water based on the fuel source, the ease of installation, the original installation cost or other factors. Some models carry a higher upfront cost but the ongoing cost is minimal — solar, for example. Ask us to explain all of the costs associated with heating your pool water. Other items you will need to consider are:
The size of the pool aka the volume of water you need to heat
The temperature you want the water
How variable the outdoor temperature in your area of the country is
How much do you have budgeted to purchase the heater, have it installed, and operate it?
A heat exchanger (which relies in ambient air temperatures) or solar energy will raise water temperatures by a few degrees and that may, or may not, make the water swimmable during the cooler months. A boiler or condenser provide more flexibility and has the ability to raise water temperatures quickly at at higher degrees.
Pool owners sometimes find a combination of two heater types work best. For example, they may use solar heat, but give it a boost with a boiler or electric heater to raise the temperature quicker and maintain it longer.