Express Pool Care, serving Phoenix, Laveen & Avondale AZ explain hot tub maintenance
The idea of soaking in a hot tub or spa might not be something you think about too often when we are in the triple digits, but you can always turn the water temperature down and sink in to enjoy the therapeutic benefits of the jets.
Caring for a hot tub or spa is almost as labor and time intensive as caring for a swimming pool. The swimming pool service contractors from Express Pool Care do share that even if you don't use the hot tub regularly it should still be checked and the water chemistry levels maintained. The care of a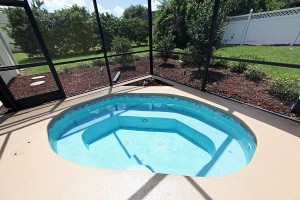 hot tub is similar, but a bit different, from caring for a swimming pool. A major difference is that bacteria will grow much more quickly in the heated waters of a hot tub than they might in a swimming pool.
If your swimming pool service contractor from Express Pool Care comes out, what will he do to maintain your hot tub? Here are a few items:
Remove the filter and clean it. It's recommended that this is done at least monthly to assure that the filter is clear of dirt and debris. Trapped dirt in the filter will slow the flow of water and this will impact the filter's performance. You may want to have an additional filter on hand so that one can be removed and cleaned and allowed to dry between visits.
The spa shell should be thoroughly cleaned every  quarter.  Your pool contractor will have to thoroughly drain the hot tub in order to effect the cleaning.
The hot tub cover is needs to be cleaned both the surface and the area that is exposed to the hot tub water.
Just as with a swimming pool, chemicals will need to be added to kill bacteria and germs.
The structure and the plumbing will be checked for leaks.
Your hot tub contractor can let you know how often the hot tub will need to be cleaned and serviced and this will likely hinge on how often you use it.