Hot tubs and spas offer different healthful benefits than does your Goodyear, Arizona swimming pool. With a hot tub, most individuals sit and relax and enjoy a good soak, while in a swimming pool you're usually swimming, frolicking and generally getting exercise! If the potential for cooler Arizona days ahead (yes, it will happen!) you may be wondering whether a hot tub or spa would be something your family would enjoy.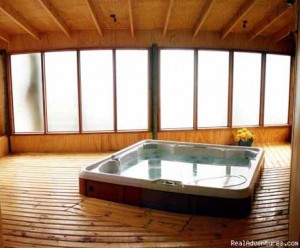 If you're considering the installation of a hot tub or spa, you will want to talk with the swimming pool service providers from Express Pool Care about where to place the structure. You may even want to consider having it placed inside your home. An in-home hot tub or spa means you will have privacy and also be able to use the hot tub year round.
What will you need to consider before deciding whether to place your hot tub indoors? Here are a few items that Goodyear, Arizona swimming pool service professionals suggest:
Do you have an available room to place the hot tub or spa? Are you planning to remodel the home so you have a space for it? Determine who will be using it and how often because you if you locate it off of your master bedroom, for example, you will potentially have people streaming in and out of the bedroom to get to and from the hot tub and that may not be idea.
You will want to avoid a room that has a carpeted floor because the steam and humidity from the spa will damage the carpet and the floor beneath.
You will want to ask your pool contractor whether the room you've potentially chosen can withstand the weight of thousands of gallons of water. He may suggest you talk with a structural engineer to make that determination.
Even if you chose a "portable" spa you need to remember that "portable" simply means that the plumbing is self-contained, it may not mean that the structure will be small enough to fit through your existing doorways. You will have to work with your pool contractor to measure the hot tub itself and the doorways through which it must be maneuvered.
You will have to have a plan in place for addressing the continual heat and humidity of a hot tub or spa. Dehumidifiers are certainly one way to go but you may need to have other measures in place. Your hot tub contractor will be best able to advise you on how to address this factor.
When you're shopping for your hot tub, you need to tell the contractor that you're considering it for indoor use as that may help him to determine the best model for your unique needs.