Express Pool Care, serving Phoenix, Laveen, Goodyear & Avondale AZ tout pool fitness
For many parts of the country, summer means a chance to shed the winter clothes (and the winter weight!) because you're no longer trapped inside because of gale force winds, snow and other wintry weather elements. However, those of us who live in Arizona know that when the temperatures climb into the triple digits, the idea of getting out for a bike ride or a run or even walking the dog is something we avoid.
You don't want to let your good health habits — those you honed during the cooler months of the year — wane. If you have a swimming pool you won't have to! The swimming pool service providers from Express Pool Care understand it's no fun to try an exercise in triple digit temperatures — it's not safe either — but if you have a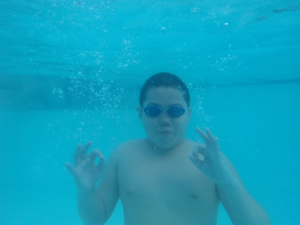 swimming pool you can stay in shape and have fun at the same time.
Working out in your swimming pool is not only a great way to amp up your cardio, but if you're playing games with your children, it is a great way to "sneak in" fitness! Your pool workout offers double the benefits because you're using the water's natural resistance to enhance the benefit of the workout all while protecting muscles and joints from stress and pressure.
A pool workout keeps your body temperature regulated and when the Arizona sun is at its peak, you know it's almost impossible to want to get out and work out.  Here are tips for making the most of the time spent in your swimming pool:
The natural resistance of the water helps muscles work more effectively than an on-land workout.
Running, walking or weight training are all beneficial for your health but can be hard on your muscles and joints. This could be a concern for those with existing joint or muscle issues. Water supports up to 80% of your body weight and this means you have a smaller chance of injury.
Water aerobics are a great way for senior citizens and those recovering from injuries to get healthy.
As long as it's not a monsoon or lightning, you can exercise in a pool regardless of how hot it gets. A pool workout keeps your temperature constant even when it's hot or humid.
Build heart health and lung capacity.
A pool workout can lead to burning between 450-700 calories an hour!
Don't let the heat turn you into a couch potato! Take a dip in your swimming pool and stay in shape while having fun!