Swimming pools — especially in Arizona where there are many triple digit temperatures — offers hours of fun and enjoyment as well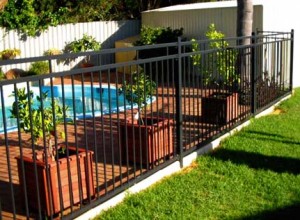 as adding to summer family memories. They can be dangerous to young children if safety compliance issues are not properly addressed. Always keep in mind that a swimming pool gate is not merely an accessory, it is a potentially life-saving device that is likely mandated by your local building and zoning officers. Gates can prevent the family pet from falling into the pool as well.
Swimming pool service contractors in Avondale, Arizona explain that for a gate to be effective it needs to have a lock – placed up high enough that children can't open it. The gate must be locked at all times when there are no adults present to watch the swimmers.
Consider adding an alarm to your swimming pool gate and fence that will sound if it is breached. The Centers for Disease Control and Prevention note that the major risk factor for drowning of children between one and four years old is because there was no protective barrier surrounding the pool area.
Your gate can be as aesthetically pleasing as it is useful, the swimming pool contractors from Express Pool Care say. Swimming pool gates have gone beyond the old-fashioned chain link type because no pool owner wants to surround their beautiful swimming pool with a fence that doesn't also enhance the outdoor living space landscape.  Also, when you think about it, a chain link fence offers toe- and foot-holds that a curious child could use to climb.
They can be fashion accessories as well as safety devices. Some individuals install swimming pool fences that can be removed in sections to make it easier to clean the swimming pool or deck. As with any type of pool device, the fence shouldn't be removed while there are children in attendance. If you're involved in a clean up project, it's easy to lose attention of the child.
Another type of swimming pool fence to consider is one that has a self locking and self alarming mechanism. As soon as it closes behind you it latches and locks and sets an alarm. Having a fence with an alarm that will sound if it's opened is a great way to offer double protection.
When it comes to the height of safety fences, the Mayo Clinic says you should have a fence that is at least four feet tall and if it's a slatted type fence, the gaps should be narrow enough that a child shouldn't be able to squeeze through it.
Having a safety fence should be something that every pool owner complies with in addition to considering installing pool alarms for the safety of friends, family and pets. After you've decided on the gate you'd like for your pool enclosure, talk to the contractor about ways to make it blend in with your pool landscape.