Express Pool Care service contractors, serving Phoenix, Laveen & Goodyear AZ explain pool fencing
If you own a swimming pool, you have to have a fence. It's a fact of life and a rule in most municipalities across the country. Chances are if you have either purchased a home with a swimming pool or are in the process of having a swimming pool installed your pool contractor will work with you on the correct height and dimensions of your pool fence.
The swimming pool service contractors from Express Pool Care work with their clients at various stages in the pool ownership life cycle to assure they have the most ideal fencing possible. They offer this information on choosing the best fence for your Arizona swimming pool: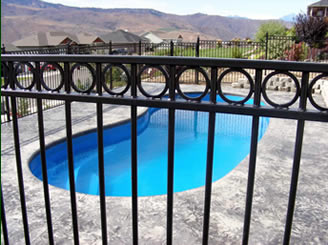 It needs to have a locking mechanism.
Consider a self locking fence with an alarm. As soon as it closes behind you it latches and locks and sets an alarm
The lock needs to be placed high enough so that a curious child can't fumble it open
If you have children in the house who will open a fence, you may be best served to have a lock with a combination or a key
You can also install an alarm with the gate as well to add to the pool security
Chain link fence is not advisable as it is easy for a child to climb
You can choose a fence that enhances your home decor and is more of an aesthetically appealing accessory in addition to being a safety measure
Drowning is a major risk for children between the ages of one and four years old, according to The Centers for Disease Control and Prevention, and having a protective barrier around the fence can help prevent that.
The height of your swimming pool fence should be at least four feet tall. If it is a slatted fence it needs to have narrow enough gaps that a child cannot wiggle through it. Just because a swimming pool safety fence is required, doesn't mean it cannot be a thing of beauty that will enhance your pool and outdoor living space!