While summer "unofficially" kicks off on Memorial Day, the weather has been so warm and the skies so sunny that for swimming pool owners in Arizona, summer has been underway for several weeks. Now that it is and now that you're going to be spending more time out of doors than inside, you will want to look at your swimming pool furniture to make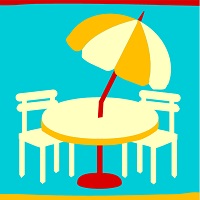 certain it suits the ambiance you are setting for your outdoor living area.
Talk to your Laveen, Arizona swimming pool service contractor about the size, style and type of furniture you want around your swimming pool. Here is some information to consider:
There are myriad shapes, styles and materials when it comes to swimming pool and patio furniture. There are the traditional webbed lounge styles, hammocks and hand-hewn wooden furniture.
Styles — 

In the past your furniture may have been a mismatched set but today people want their patio furniture to have an ambiance and a welcoming feel – just as their homes do. Furniture is being bought in matching and complementary styles and colors whether it's lounges and chairs or complete outdoor patio sets including outdoor eating areas. Whether contemporary or modern, having a central color theme and furniture style can pull your whole outdoor living area together. Many people no longer want a single outdoor furniture piece. They want a complete set to give their outdoor areas a finished look. 

Furniture materials — 

You can choose from wrought iron or cypress and cedar are durable woods that are popular for outdoor furniture. Cedar and cypress can withstand the water that your swimmers will be dripping onto it when they're coming out of the pool and are looking for a place to relax and dry off. These woods both age well and can last for decades. If you're looking for an option that is a little less expensive choose aluminum frame furniture. This furniture can stand up to years of use and weather. 

Cushion fabrics — When you talk to the swimming pool service contractors from Express Pool Care make certain they are aware of whether your furniture will be in full sunlight all day or whether it will be in shade — this will make a difference in fading of the materials.

You can choose from vinyl, polyester and various cottons that are made specifically for outdoor use. If you have children you might want to choose a material that is easy to be cleaned in the event drinks are spilled.

Colors — 

You can choose from colors that lend a bright color splash reminiscent of a jungle or floral garden or you can choose something more muted to give you outdoor living space a more subdued look and feel. Choose one vivid color as a base and then build the rest of your cushion colors around it in more muted tones. Unless you plan to upgrade and update your furniture every year make certain you choose a color that you want to live with for many years.
Spend some time visiting furniture showrooms and sitting in some of the furniture to find some that is both comfortable and within your family budget.