Arizona is known for weather that draws the snowbirds and for triple digit temperatures. It is also known for monsoon season which typically occurs mid June and lasts until mid-September. Monsoon season in Arizona is marked by high winds, high temperatures, high moisture and thick dust storms.
Swimming pool service contractors in Laveen, Arizona work with pool owners before and after the monsoons roll through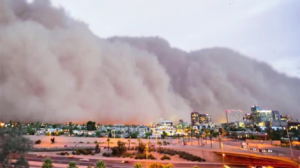 to keep the pools clean and clear from debris as well as working to keep the chemical balances in proper order. Using a swimming pool cover can alleviate a lot of chemical balance issues as well as help keep the pool free from flying debris and from being coated with layers of dust.
Pool and homeowners need to be aware of when these storms are making an appearance and need to take the time to secure any and all furniture and equipment that could become projectiles in the event of a high wind storm.
If you are on a regular contract with a swimming pool service contractor you can rest assured that once the storm has passed that he will be out to visit, to assess any damage to your pool and to begin the clean up of the swimming pool water. Here are some of te items the swimming pool service contractors from Express Pool Care will inspect following the storm:
Leaves and debris clean up. Your pool contractor will undertake the task of cleaning off any floating items before he vacuums the pool to remove the dust. If it will be a day before your pool contractor arrives, you will want to skim out leaves, branches and other debris so that it doesn't clog your filter.
During monsoon season your pool contractor will set your filter timers to run for more hours during the early afternoon and evenings. Because monsoons tend to strike during these times, and because the high winds, rain and temperatures can wreak havoc with the pool, running the filter for longer periods of time will help to reduce any issues in the long run.
The pool filters may need to be removed and taken apart and the pool backwashed following a particularly heavy or violent storm. The reason for this is to ensure that all dirt and debris are removed from the pool's filter.
Prepare to have your pool shocked aka super-chlorinated following a dust storm. Because the dust can carry any number of air borne pathogens, it could be easy for algae to take hold in your pool after the storm has blown through. Super-chlorinating it will help prevent that.
Using a cover at all times is good advice, but is especially true during the height of monsoon season. You will have to be aware of the weight of the cover if there is a build up of dirt or dust after a storm has made its way through. Sweeping or vacuuming the dust off the cover before removing it is always advised.
 Because monsoon storms have the possibility to bring with them the damaging winds and even lightning it is best to get out, and stay out, of the pool when one is predicted.