Swimming pool covers perform many functions for your pool and/or hot tub. They keep the pool water free from leaves and debris, they help retain the heat and they can also act as a protective barrier to keep children and pets from falling into the water. When you talk with your swimming pool service contractor from Express Pool Care make certain you tell him the reasons for wanting the pool cover and whether you will be needing one that will act as a protective barrier to keep children safe from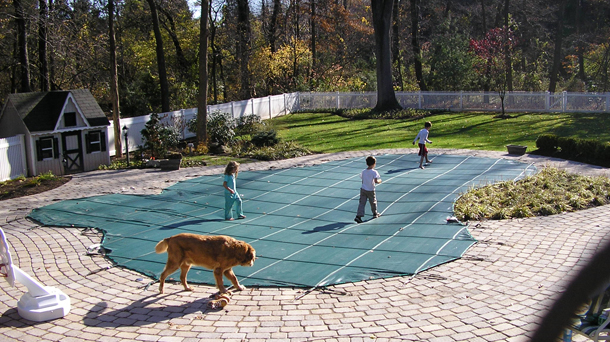 harm. Using a swimming pool cover can also potentially save you money by preventing evaporation and helping you use fewer chemicals to keep the water clean.
Consider that, even in Arizona, swimming pools lose heat but the largest cause of energy loss is through evaporation and the process by which water evaporates is what uses the most energy. To heat water by only one degree, it takes 1 BTU per pound of water – for each pound of water that evaporates, however, from an 80 degree Fahrenheit pool, you lose 1,048 BTUs of heat – and that really adds up! A swimming pool cover can help save energy and water by reducing the rate at which water evaporates. By covering the pool when it's not in use, you significantly reduce the amount of energy required to keep the pool at a swim-friendly temperature. With proper pool cover use, your swimming pool contractor in Avondale, Arizona say you could potentially save up to 50% on your heating bill (from the amount having a pool has added to your home's original electric usage).
If you have had your swimming pool cover for a period of time, it might be the time to ask your pool contractor about upgrading it because of the updates to technology that have occurred in recent years. If you have a large swimming pool and the idea of removing and replacing the cover every time you swim seems daunting, ask your pool contractor about the installation of an electronic pool cover.  If you want to go high tech, you can also purchase a pool cover that operates on a timer system that can be opened and closed prior to your even entering the backyard!
Don't forget to ask your pool contractor about safety covers. These work the same as the covers described above but are more expensive because they are constructed to support the weight of a small child.
You can even purchase pool covers that operate on a timer system – they can cover and uncover the pool, and even turn on heating devices or pool jets or lights by a simple programming pattern.
Regardless of which style you chose, a pool cover will save you money and are an environmentally friendly pool accessory.
Check Pool Info Site for more information o n all items swimming pool and hot tub related.